S.A.Collins
Member
Full Member
Messages

15
Reaction score

4
First off, Ive been coming to this site for a while now, it's an amazing source of info for our line of work. Ive been meaning to make this post for about a year now but just never got around to doing it. Ive shared the info with a few friends that have labs and they have been happy with the results. I hope I don't offend/piss anyone off on here that sells wax discs, that's not my intention…I'm just trying to help out the other little guys like myself. I'm 32 years old and part of a small Lab in FL that my dad started almost 40 years ago. We do around 20 PFM units a day and a handful of Zirconia, full gold, and emax. For years we were 1 delivery guy, 1 model person, 1 metal finisher, 1 waxer, and 2 ceramists. 3 years ago our waxer retired so the metal finisher started doing both jobs. During the next year we realized the waxer/metal finisher had been stealing huge amounts of gold so we obviously fired him. This left me doing model work, then waxing a crap ton of units and investing/casting metal finishing every day for months, it was hell. I'm pretty sure my son at the time thought I was just a part of his extended family for how little I was home. Finding a dependable experienced employee was also hell. Long story short, we bought the AG Ceramill Motion 2 with the main purpose being milling wax for copings, frameworks, full cast, and emax and milling in house the handful of abutments we were sending out. We were paying 60k a year to the waxer and to the metal finisher so the way I looked at it was that the equipment would be payed off in 1 year…(60k for the mill, 40k for the scanner-d2000, and 10k for the sintering furnace for the zirconia we would start doing). Now you still have to obviously sprue and finish the metal and what not, but after dialing in the settings metal finishing is a joke with milled copings. You basically are just roughing up the surface and finishing the margins, takes no time at all for those wondering. I can scan and design 20 copings in under a half hour and have them in the mill. I takes 2+ hours to mill so if you are looking to cut length of time down, some fast waxers could probably wax by hand a lot faster, but while it is in the mill you can be doing other work so the actual time spent on each unit is greatly reduced. Blah blah blah, what about the wax discs you say?? Ok so one thing I didn't take into account was the price of the wax pucks, we were using between 1.5 and 2 wax pucks a day. Sometimes big frames take almost a whole disc, and sometimes on big zirc cases I like to mill out of wax first to check in my hand before burning through and expensive zirc disc. Now the cheapest wax discs I've found are $10, more expensive are $30, and most of the places that sell them are closer to $20. We were spending between $400 and $800 a month on wax discs before I knew any better and I was determined to cut that down. So I made a Silicone mold of one of the wax discs and melted what was left of old discs and poured it in the mold. When it cooled it looked perfect, but my joy was short-lived when I realized that I didn't take into account the shrinkage of the wax and it was too small to fit into the blank holder. But I didn't give up, I ordered a slightly larger disc (100mm without the step) online. I took the plastic step from an old zirconia disc and I waxed it to the100mm disc in 3 places, and slightly shaved it where the steps were to make room for it to connect to the blank holder. I made another silicone mold and Voila! Fits perfect after shrinkage. So my next goal was finding bulk wax cheap enough to make it worth making my own. I looked online and right off the bat found the site machinablewax.com, Ive seen it brought up on here a few times but I have absolutely no affiliation with them. I had him send me a couple samples and then eventually ordered a 10 pound box of the orange wax. So with shipping it cost me around $60 for the wax, and I got more than 60 20mm discs out of one order of wax so my VERY basic math skills tells me that is under $1 per disc after the initial price of that silicone I used and the single 100mm disc I bought. So instead of $1200 plus on 60 discs, its less than $60. And if you were doing smaller thickness discs the savings are even greater. The best part is that I actually love the wax more than any dental supply wax that Ive got with the exception of Jensen Wax discs(because its very similar to this orange wax) The blue and brown waxes that I always ordered from dental companies was very brittle and a lot of time would break and snap when cutting them out of the discs after milling, especially the very thin copings, but this orange wax is way more forgiving like the jensen wax. I use it for copings, frameworks, full gold and emax and it burns out clean and Ive never had a problem with it. I used to be very careful and clean the old discs that I was recycling and mix half new wax with it every time but honestly Ive been in a hurry and not done either of those things and still never had a problem. I put the wax in the burnout oven at 200C for 30 minutes in a copper mug then pour it right into the mold and just do that for a few hours every time I need discs, It takes less time than getting on the phone and ordering.
If anyone has any questions I would be more than happy to help you in anyway that I can. Like I said before, I'm Just trying to share what Ive found to be very helpful for us and saves us a ton of $$
100mm puck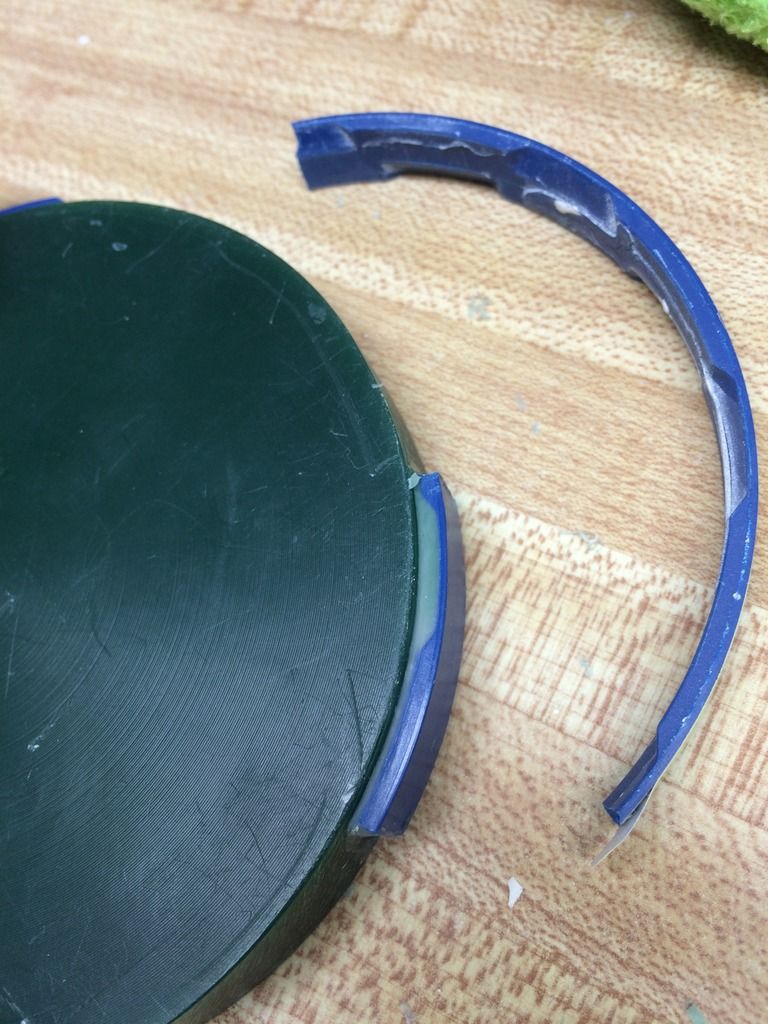 I made a stone duplicate of this just in case something happened to the wax master mold.
Put a piece of utility wax in the center and try to make as level as possible then put in a small flat dish slightly bigger than the disc, I used tupperware.